Skip to Content
Arched, Transoms & Sidelights
Arched, Transoms, & Side Lights for Your New Doors
If you value your home's security but are concerned about its aesthetics, American Door has high-quality ornamental security and storm doors and additional products to enhance your entries. These doors increase your home's value and protect it from break-ins and other domestic hazards. Add beauty and safety with a round, arched, or cathedral top to your new door, and pair it with customized transoms and sidelights to amplify your style. Our doors come with a standard double-cylinder deadbolt, and we have a wide array of locks available with four different finishes. We powder-coat each lock and complete the process with a durable baked-on finish. You can choose from 10 stylish colors.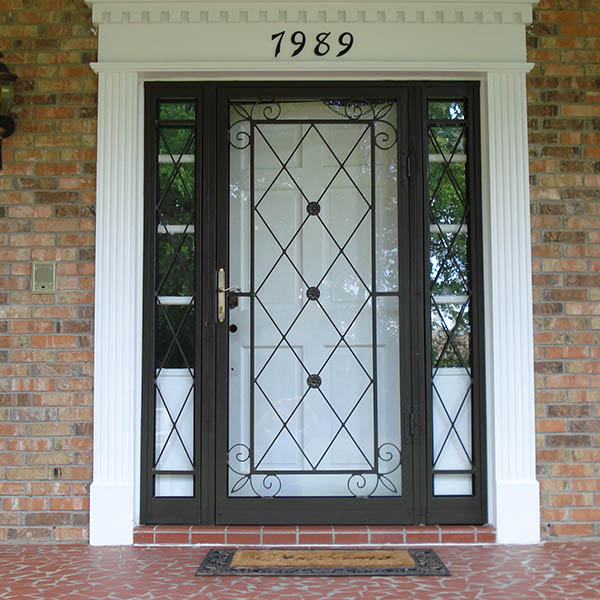 Transoms & Side Lights to Complement Your Home
You don't have to stop at getting a new ornamental door to protect you from storms and trespassers. American Door values your personal style and offers additional features to integrate into your installation. Our company has a large selection of custom transoms and sidelights, all beautifully crafted and designed to match your new doors, no matter what size they might be. We offer sidelights and transoms in 10 powder-coated colors to match your ornamental door's custom style and allure. You can count on us to help you select the perfect details and features and install them quickly and efficiently, so they are ready to use as soon as we finish.
Security & Storm Doors With Arched & Round Tops
American Door values your personal style and offers various designs to help you customize the look of your new ornamental security and storm doors. We have a large selection of beautifully crafted doors with arched and round tops to fit your entryway and aesthetic taste. Every door gets fabricated with 16-gauge steel, and the mainframes are welded to ensure you get a strong and secure door to protect you from weather, intruders, and other threats. You can add laminated glass for better security, heat, and ultraviolet (UV) light reduction, and sound dampening. Our priority is making sure we sell and install a door that fits your needs, from the color and design to extra features like a pet door.
American Door Sells & Installs in the Mid-South
Let the team at American Door guide you through our selection of doors, sidelights, and many other products to enhance your home's security and appearance. We always provide outstanding customer service whenever you call us or visit our showroom.
Contact Us to Schedule a Consultation