Skip to Content
Mailboxes, Rails & Window Guards
Quality Mailboxes, Rails, & Window Guards
American Door wants every customer to enjoy their home investment, from appealing ornamental storm and security doors to garden gates. Our product line and expertise extend to other invaluable safety- and aesthetic-enhancing products, including mailboxes, rails, and window guards. Mid-South homeowners are welcome to visit our showroom or contact us to explore our custom-made inventory.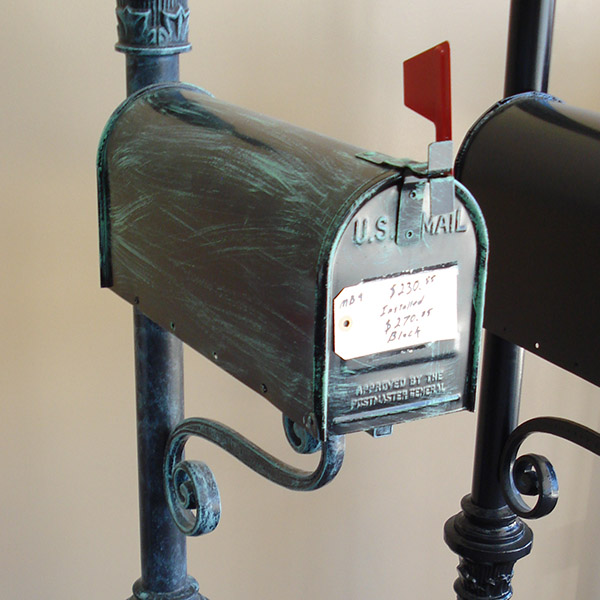 Attractive & Sturdy Mailboxes for Memphis, TN Homes
Do you want a stable and attractive place to get your mail and accentuate your home's style and appeal? American Door understands how a mailbox can complement your home's style and enhance your curb appeal, and the best way to preserve your attractive mailbox is with a durable, secure, and stylish post. We make our mailbox posts with two-inch schedule 40 post driven 18 inches into the ground. The design features a decorative fluted Corinthian post with a pineapple crown, and we powder-coat it black with antique green or antique brown. You can see examples of our mailbox posts for yourself at our showroom, and we can walk you through your choices during a personal home session.
Protective Window Guards to Block Intruders
Your windows let in light and views of your neighborhood as the glass keeps out wind, rain, and extreme temperatures. However, an intruder can break the glass and climb through the window, making your home and possessions vulnerable to theft and vandalism. Our wide selection of custom window guards helps you secure your home with sturdy protection over the fragile glass separating you from unwelcome trespassers. We powder-coat each window guard and apply a baked-on finish coming in your choice of 10 stylish colors. Our team will create and install these secure items to fit your windows precisely and provide an uncompromising barrier.
Handrails Ensure Year-Round Safety
Whether you worry about icy stairs and walkways in the winter or slippery surfaces from summer rain, American Door has you covered. Our handrails provide your family and visitors with a secure rail to grab and stabilize themselves while walking to or from your home. We can create handrails in various styles and color finishes to match your home's aesthetic, and our team installs them quickly and efficiently so that they are ready to use for year-round safety.
Contact Us to Schedule a Consultation